The three-arm GRV7 is a very elegant revolving gate in steel and tempered crystal which may be installed in indoor areas where an elegant design is required as well as a gate enabling a high transit flow. Particularly suitable for the entrance areas of banks, ministries, business centres, public transport stations.
The gate is made up of an AISI 304 stainless steel body and tempered crystal or Plexiglas. LED direction symbols may be applied on the top of the revolving column.
It works in two directions. It may be connected to any type of access control system, such as RFID readers, a remote control or a simple button. Once the right to access has been granted, the gate rotates automatically. The gate remains in frontal open position for 15 seconds, if the user does not begin transit the gate closes and locks again. Waiting time may be modified when programming the control board. In case of power failure the GRV7 gate remains unlocked to allow free transit in both directions.
Works with:
RFID readers

Remote control

Transit counter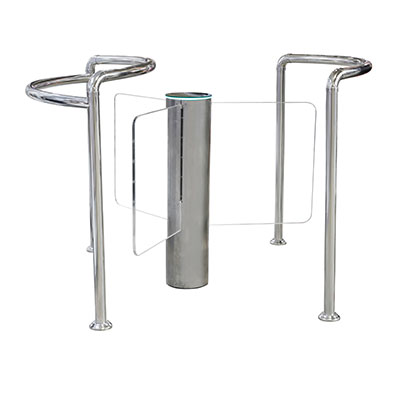 Download pdf fact sheet